Introduction
The European Youth Forum, an organisation that represents over 25 million young people in Europe, in 2022 developed the Charter on Youth and Democracy: a document that outlines the rights and responsibilities of young people in democratic societies. 
The Charter on Youth and Democracy is a detailed document that addresses various topics related to young people's involvement in democracy, such as:
the right to vote;
the freedom of speech and assembly;
the access to information:
The Charter highlights the necessity of young engagement in decision-making and encourages the development of structures and procedures to facilitate youth participation.
Let's take a closer look at this document!
The Importance of Youth Participation
Youth participation makes a significant impact on the functioning of a healthy democracy. Through that, young people can have a say in the decisions that affect their lives; moreover, it ensures that the needs and perspective of young people are taken into consideration.
In this scenario, representatives from youth organisations and young elected from around the EU co-created the Charter in a bottom-up approach. It has 49 recommendations organised into four categories:
1 Education, collaboration, and information;
2 Empowerment, leadership, and democratic involvement of youth;
3 The Impact of New Technologies and Digitalization;
4 Youth policy inclusion and political representation;
But how can this document lead to a concrete outcome? Keep reading to find out!
The Role of Governments and Civil Society in Youth Participation
The importance of this document lies in its ability to require governments to take specific actions to support and encourage youth participation. To make youth participation a concrete outcome, governments can move in two directions. 
On one hand, providing young people with the necessary information, resources, and support to enable them to participate in the democratic process. Alternatively, governments can also create opportunities for young people to get involved in decision-making processes at the local, national, and international levels.
Governments are not the only ones having a key-role in this context: civil society organizations, like youth organizations and NGOs, also have an important role to play in promoting youth participation in democracy. These organisations provide young people with the necessary skills, knowledge, and support to become active citizens.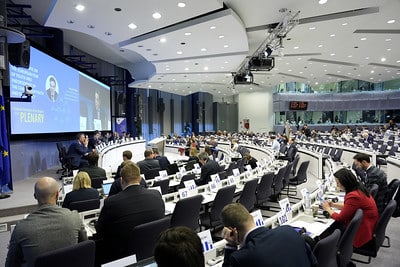 Conclusion
The Charter on Youth and Democracy is an important document that recognizes the vital role that young people play in democratic societies. It promotes the empowerment of young people to engage in democracy and make choices that affect their lives.
For more information, you can read the charter on Youth and Democracy here.
Read also
Dialogue with Young People on Energy, Inflation, and Conflict
European Solidarity Corps Proposals 2023 with €142 Million in Funding