The new EACEA brochure is available online for download, with an up-to-date recall on the role of the Agency and the European funding programmes. The document contains everything you need to know about our Agency at a glance.
Since 2006, the European Education and Culture Executive Agency has been managing projects in education, training, youth, sport, audiovisual, culture, citizenship and humanitarian aid. On behalf of the European Commission, EACEA strives to support innovation in these areas, always in a spirit of cross-border cooperation and mutual respect.
About The EACEA Brochure
The downloadable document displays the new EACEA mandate for 2021-2027 programming period and describes the Agency's activities and governance.
Specifically, you will find the following information:
introductions from the Director-General for Education, Youth, Sport and Culture and the Director of EACEA;
descriptions of the funding programmes managed by EACEA;
budget information for the 2021-2027 programming period;
a list of EACEA's supervisory partners (parent DGs) in the European Commission;
an overview of the types of organisations and individuals that EACEA's funding programmes support;
information on where to apply for funding.
Contents at a Glance
The EACEA, together with the European Commission, manages the following programmes:
Erasmus Plus
Creative Europe
Citizens, Equality, Rights and Values
The programmes provide opportunities and support for a wide range of people and organisations in Europe and worldwide. A focus on each European programme is available in the brochure. Moreover, you will find an explaination about funding.
EACEA publishes funding opportunities on the European Commission's central funding platform: the Funding & Tender Opportunities Portal (F&TP). To see the range of opportunities available, simply visit the portal and click on one of the programmes.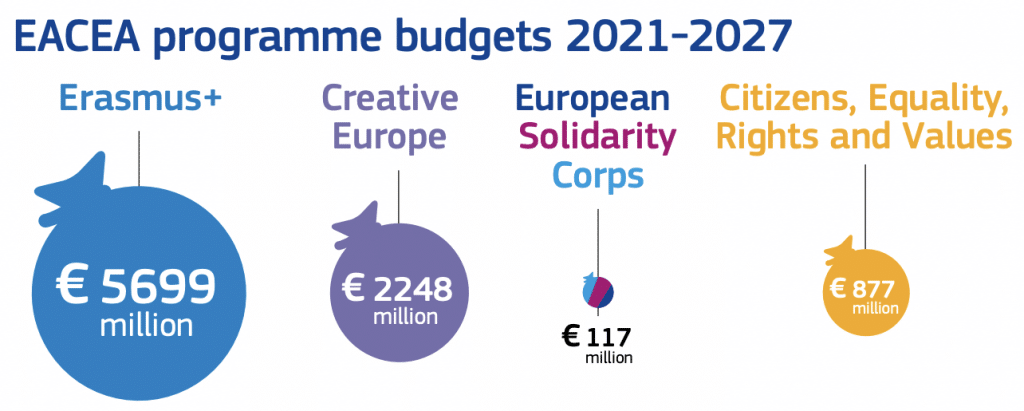 How To Get the EACEA Brochure
You can either access the EACEA brochure online or download it in PDF version from the same page.
Read also